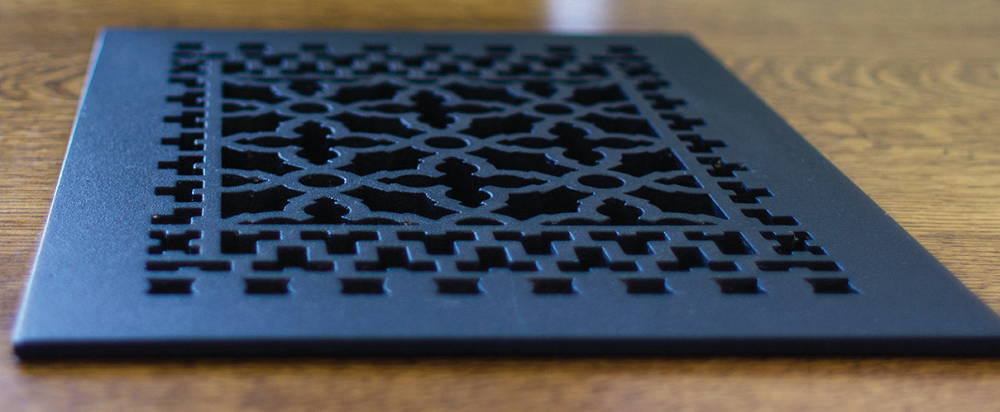 Frequently Asked Questions and Important Information
Vent Covers Unlimited Contact Information:
Custom

Orders on Air Vent Covers

Order Information

General Product Questions
… Or any other questions about our decorative vent covers you might have!
Looking to price out an order for wall vent covers? Need a
Custom Quote?
Contact us via the online form, email or by calling 888-622-4225.
---
Give us a call at 1-888-622-4225. We are typically available via phone from 10:00am - 5:30pm EST M-F
We still spend most of our days on job sites helping local builders, so if we do not answer please leave us a message and we will contact you as soon as possible.
---
Send us an Email at sales@ventcoversunlimited.com. We respond to emails & custom quotes 7-Days a week and within 24 hours and usually much faster.
---
Send us a fax at 888-622-6194; because sometimes its just easier
---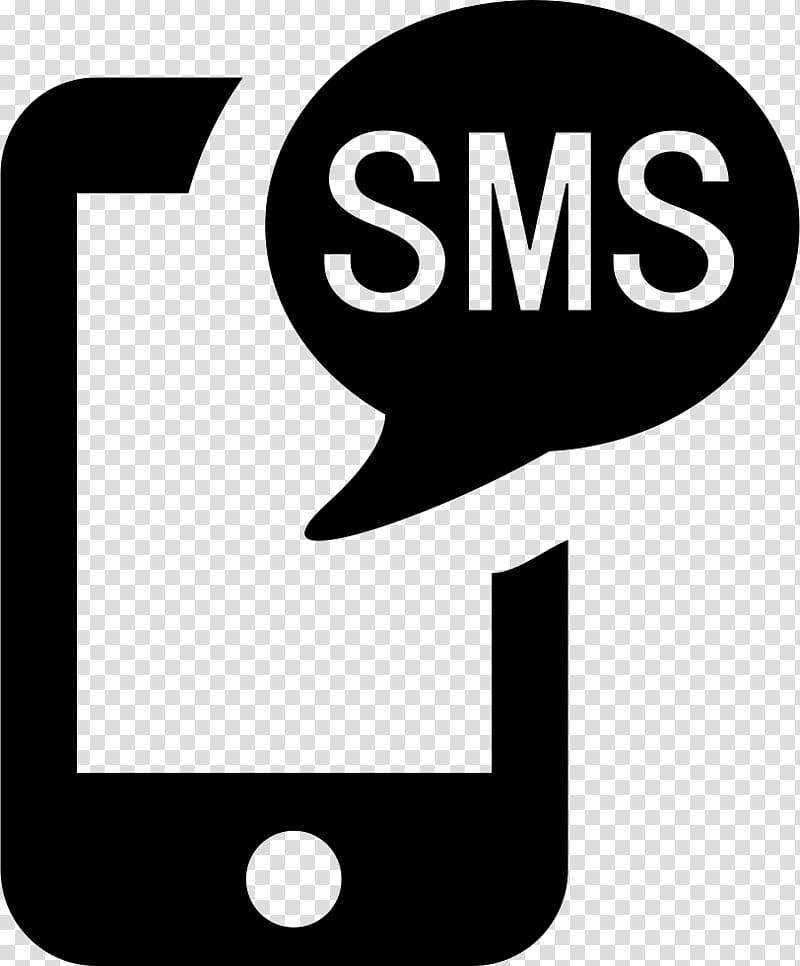 Send us a text. We can receive images and answer general questions through text. This number is for text messages only.
Shipping Information - How do you ship?
Domestic (Lower 48 States) Shipping is Free on Orders Over $50
We use a combination of USPS, Fedex, and UPS
We do have the ability to expedite most order for in-stock merchandise. Please contact us directly for an estimate.
Shipping to Alaska, Hawaii, and US Territories:
$20 handling fee and $5 per item.
Shipping to Canada:
$30 handling fee and $5 per item. Additional charges may occur upon delivery.*
Shipping Internationally:
Please email us for a shipping estimate.
*International orders may be subject to additional taxes/tariffs upon arrival. The customer is responsible for any additional fees.
Lead Time - How soon will my order ship?
Lead Time / Availability
Listed on every product under availability
Availability refers to the order processing/handling fee or the time it takes to manufacturer your products.
"In-Stock" products typically ship same or next day
Custom Products
Generally have a lead-time of 2-6 weeks depending on the level of customization
Custom Orders that have an accompanying Computer Aided Drawing (CAD) do not begin production until the CAD is approved by the customer
Custom Wood & Resin orders typically have a 2 week lead-time.
Order Status
Order in Manufacturing Process: If your order is custom or manufactured at the time of ordering, we will send you an internal communication to inform you of the expected completion date.
Awaiting Fulfillment: Typically this indicates that it is in the handling process. "In-Stock" products typically ship same or next day and may skip "Awaiting for Shipment" and move to "Shipped"
Awaiting Shipment: Final stage of production or fulfillment
Shipped: You will receive an automated email with a tracking number. Sometimes tracking numbers are a business day behind actual shipping date.
Return Policy - What is your policy on returns?
Returns will be accepted during a 30-day window from the date you receive your order.
A Return Authorization Number must be attained before a return will be accepted.
A 15% restocking fee will be assessed on all returns. If you are exchanging, the restocking fee is waived.
Refunds will be issued after the return is inspected a confirmed to be in new condition.
Custom items and made-to-order cannot be returned. Items that have a custom finish, custom sizing, laser cut wood, or silver/ gold series steel design products cannot be returned. They are manufactured at the time of ordering and therefore deemed custom.
Please contact us for additional return policy questions or to receive a Return Authorization Number
Measuring - How do I measure?
Standard Registers & Returns Basic Information and Installation Tips
Surface Mount (Drop-In Style):
Most common type of floor, wall, and ceiling registers and returns.
Available in wood, metal, and resin.
They often come with a damper to control the airflow on/off.
Simply remove the current vent cover and measure the duct (Note: many ducts are uneven, registers are slightly undersized to allow for some variance)
To install, simply drop into your vent cover. (Utilize the included screws or wall clips for ceiling or wall installation)
Once installed, you can use foam strips or weather stripping to decrease the movement of your new vent cover fit if desired.
---
Flush Mount (with and without frame):
These are typically wood and installed at the time of new flooring being installed
Measuring for Flush Mount with frame requires you to measure the duct size and order per that measurement. You can confirm the overall size of the vent cover with frame by navigating to the product page.
Measuring for Flush Mount without frame requires you to measure the duct size and the overall size of the floor opening. Order based on duct size but confirm the overall size listed on product page.
---
Hinged Air Returns:
Available in wood, resin, and metal
Easy access to change air filters.
Utilizes latches or magnets to secure door.
These are often installed in wall or ceilings.
Order by the size of the filter. (i.e. 20" x 20" filter = Order 20" x 20")
We can also build these as access panels. Please contact us for additional information.
---
Baseboard Register & Returns:
Available in both steel and wood
Typical measurements include a height of about 5" and depth it projects from the wall of about 3". This is dependent upon which style.
Standard lengths are 15", 18", and 24". Custom sizes are available
These are often installed in wall or ceilings.
---
Gravity Register & Returns:
Gravity Baseboard Registers: Many older homes, especially in the north, have gravity heating systems that have large, triangular baseboard registers that have become hard to find.
Comes in two pieces (sold as one unit) a baseboard frame and register insert (with flap damper).
Wall installation screws (included)on the frame are hidden by the insert
Measure these by the overall size of the area in which they are going to be installed and the duct size. These measurements are outline on the product page.
What are your products made out of?
Resin: Why Resin?
Thermal Protection (against both high and low temperatures)

Rigid – It is obviously critical to have a final product that is rigid and will not warp.

Moldable, Paintable, Nailable

Dimensionally Stable – Resin does not expand or contract with temperature variations – thus avoiding warping or the failure of adhesion to the resin's surface.

Moisture Resistant – This allows our customers to use resin vent covers for both interior and exterior applications.

Resin products should not be used on floors.
---
Alumnium:
Cast Alumium is strong and can be utilized in areas with a high level of moisture, including exterior applications.

Rust Free makes it a solid option for bathrooms, laundry rooms, and virtually any other location.

Cast Alumium is strong enough to walk on, although some very large size you would want to use caution and add addtional reinforcements.

Available in several finishes, including bare aluminum, and is paintable.
---
Steel:
Galvanized steel to reduce the possibility of rust.

Virtually unlimited finishes inlcuding brushed stainless steel.

Safe for any application

All of our custom steel, steel designs, our finishes, and even our screws are Made in the USA.

Our Steel Register & Returns over superior quality to the items in the big box stores,
they have virtually limitless custom options, and some can ship as quick a same day.
---
Wood

:
Over 60 Species of Wood Available

Delivered Unfinished & Factory Sanded or with a Clear Coat

Available in a flush mount for a seamless blend with your wood flooring

Custom Sizes Available, Finishes,

Many Red Oak, White Oak, and Hard Maple in Standard Sizes ship in 1-2 business days

Laser Cut Designs available

Made in the USA
---
Solid Brass Core & Cast Brass:
Built to stand the test of time

Solid Brass Core: 1/8" Thickness

Hand Cast Brass: 3/16" Thickness

Solid Brass Core is available in Oil Rubbed Bronze & Brushed Nickel

Cast Brass & Solid Brass Core vent covers ship within 1-3 business days
---
Solid Bronze:
1/4" Thickness

Hand rubbed to simulate aged bronze.

"Living Finish": Finishes will darken and change color based on their environment.

Sand-casting bronze creates more than usual distressing of the metal surface. This is an integral part of our products handmade look.

Manufactured at the time of order & lead time is 6 weeks

Made in the USA
What is a Supply vs Register vs Return?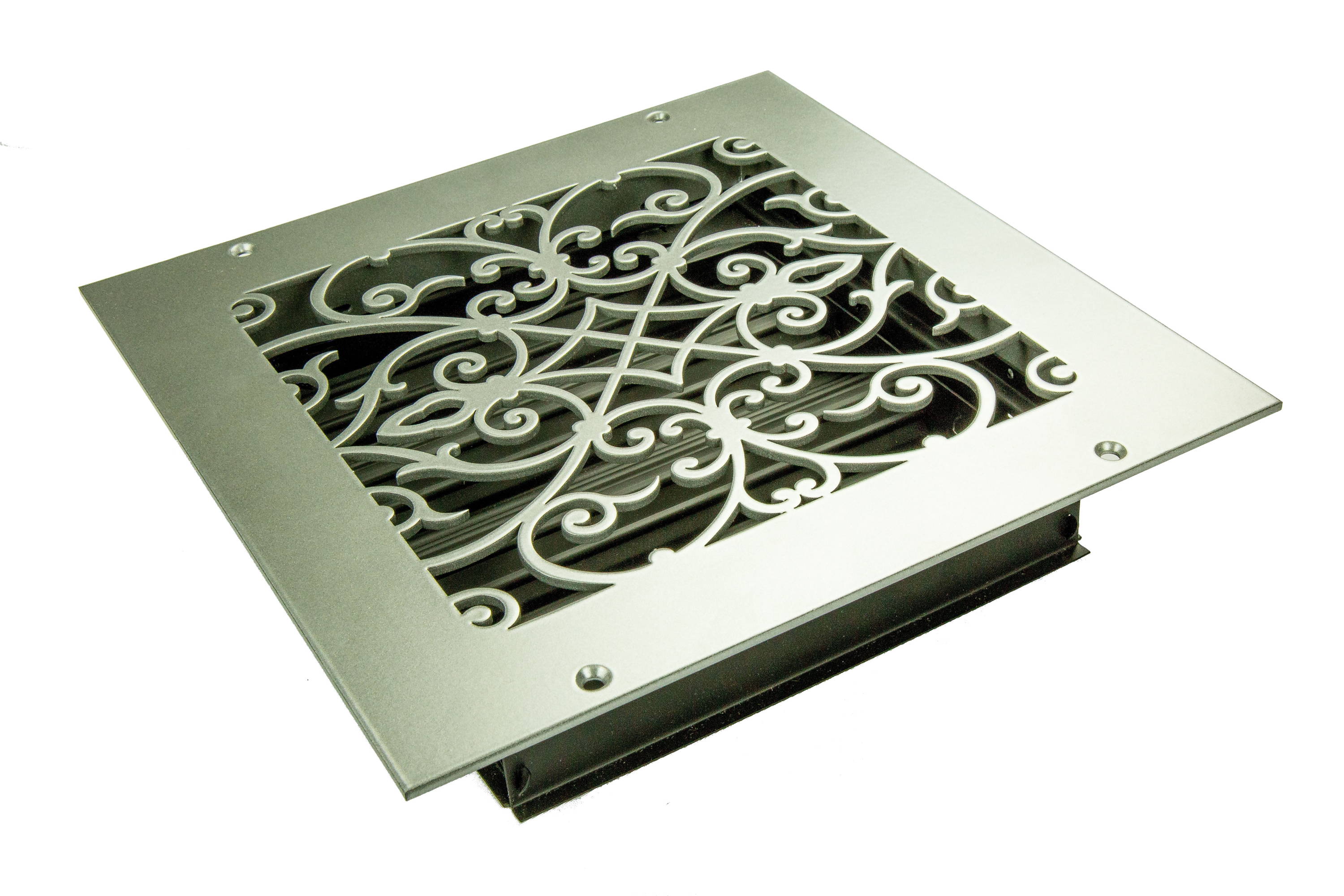 Supply or Register:Registers (also referred to as a supply) are found around the home on floors. walls. and ceilings. They guide the hot or cold air flowing into your rooms. They include a damper that allows the air flow to be cycled on or off. Some dampers are preinstalled on the grille while some are mounted independently into the duct.
---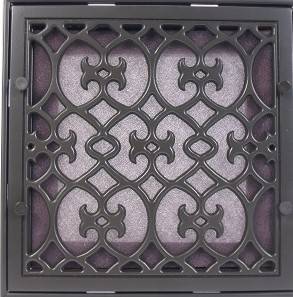 Hinged Air Retuns:
Air returns and hinged air returns circultate the air from your rooms back to you air handler where it is filter and resdistributed throughout your house. Filters are typically found in one of two placed. They can be installed at the air handler or at the air return using a hinged door, mangetic door, or a door with thumb screws. The hinged air retuns provide easy access to your filter making it easy to change.
---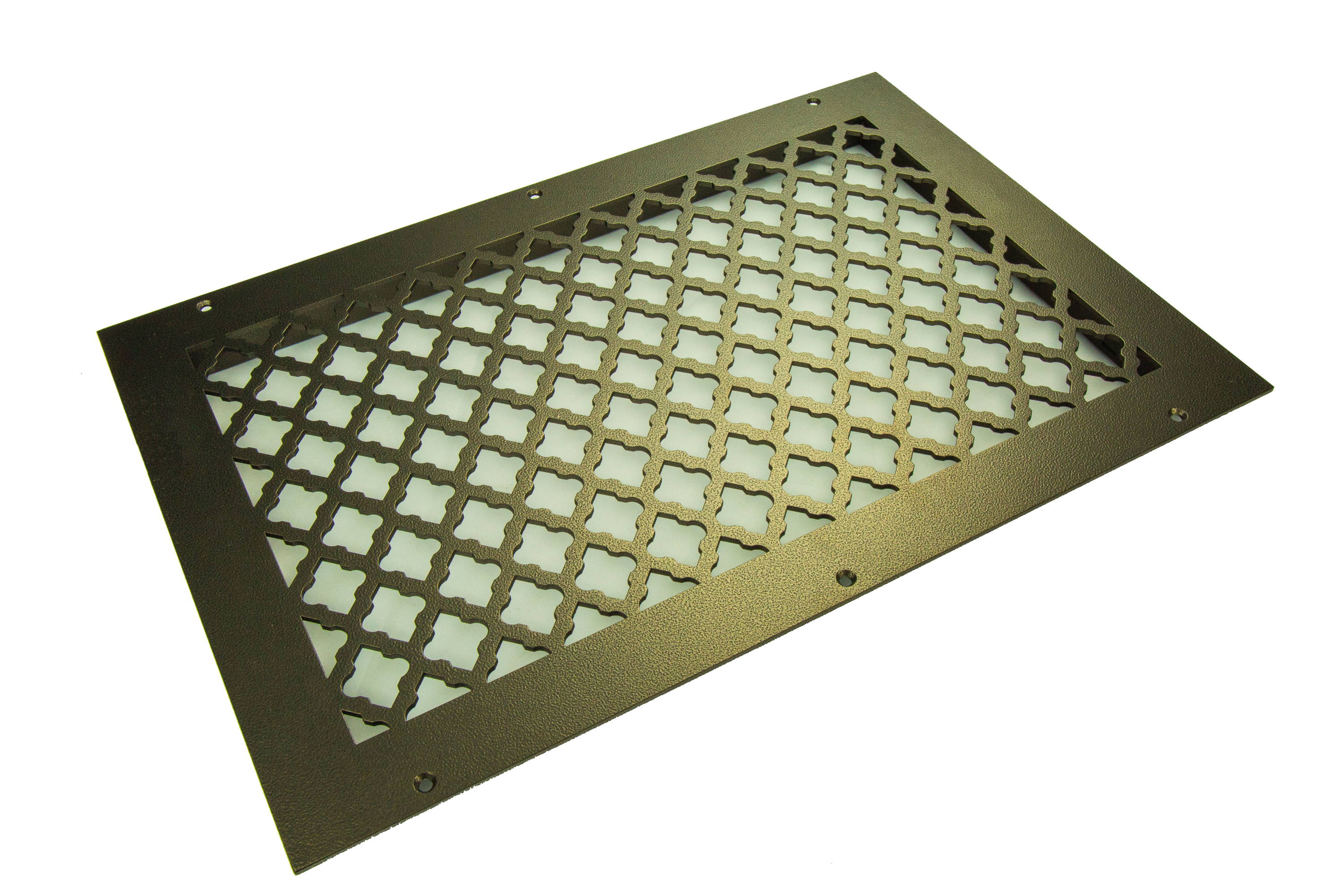 Air Returns:
Air returns also circultate the air from your rooms back to you air handler where it is filtered and resdistributed throughout your house. These filters are typically installed at the air handler or off an air retun duct.
What exactly is a damper and how do I operate it?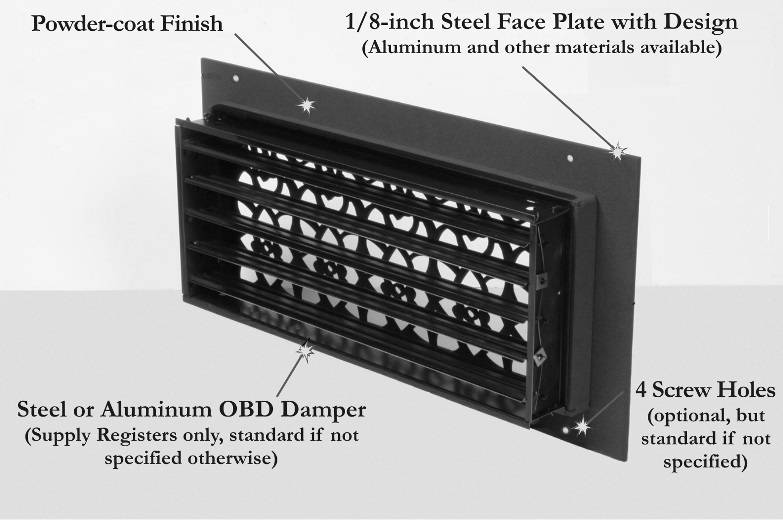 Damper or Louvers, are made to shut the airflow off or on. In most cases they are removebale. Dampers will not block ALL of the air flow. They are available on virtually all of our design & custom items. Most are attached to the faceplate with screws; however, some are mount independently (pictured below).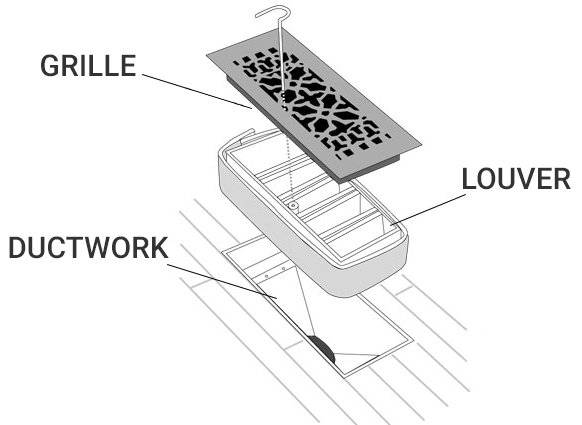 | | | |
| --- | --- | --- |
| Standard Lever | Screwdriver Operated | Wheel Control |
| | | |
| This is our most standard design. It does project about 3/8". The motion of these levers is an arc. | Many of our high end register require a flat blade screw driver to operate. This is for asethics and by deisgn. | The wheel contolled damper is found on some of our baseboard registers, solid bronze register and some custom our registers that are 3 wide or less. |
What wood species are available?
Wood Species for Custom and Standard Size Wood Vent Covers
We offer over 60* types of wood species on all of our standard wood registers and returns and custom registers and returns.
STANDARD SPECIES:
Ash, Beech, Birch, Hickory (Pecan), Maple, Ponderosa Pine, Poplar (Paint Grade), Red Oak, Southern Yellow Pine, White Oak and White Pine
PREMIUM SPECIES:
Alder, Western Red Cedar, Cumaru (Brazilian/Southern Chestnut – Dark and Brazilian Teak – Light), Douglas Fir, Elm, Jatoba (Brazilian Cherry) - Long Leaf Pine, Mahogany (African,Genuine, Honduras, Philippine, and Santos), New Heart Pine, Quarter Sawn Red Oak, and Quarter Sawn White Oak, Sassafras and Southern/American Cypress.
EXOTIC SPECIES:
Acacia (Asian Walnut), Amendoim (Brazilian Oak) American Black Walnut, Anigre, Asian Rosewood (Pardoo) Andaroba (Royal Mahogany), Antique Heart Pine, Australian Cypress, Bamboo (Natural/Carbonized – Vertical/Horizontal Grain), Birds Eye Maple, Bolivian Rosewood (Morado), Bubinga, Chechin (Caribbean Rosewood), American Black Cherry, Antique Chestnut, Curupay (Angeco Preto, or Patagonian Rosewood), Doussie, Kempas, Lyptus, Merbau, Mesquite, Massaranduba (Brazilian Redwood), Paduak, Purpleheart, Red Birch, Redwood, Sirarri, Teak, Tiete Rosewood (Patagonian Cherry or Kuragi or Kuruguay), Tigerwood (Goncalo Alvez), Sapelle, Tauari, and Wenge (Panga Panga)
*Availability Subject to Change
---
Helpful - Recent Posts from Our Facebook Page