Frequent Asked Questions
Domestic (Lower 48 States) Shipping is Free on Orders Over $50
We use a combination of USPS, Fedex, and UPS
We do have the ability to expedite most order for in-stock merchandise. Please contact us directly for an estimate.
Shipping to Alaska, Hawaii, and US Territories:
$20 handling fee and $5 per item.
Shipping to Canada:
$30 handling fee and $5 per item. Additional charges may occur upon delivery including applicable duties and taxes.
Shipping Internationally:
Please email us for a shipping estimate.
*International orders may be subject to additional taxes/tariffs upon arrival. The customer is responsible for any additional fees.
When will I receive my order?
We have a variety of products and the time to ship varies. Many of our products are made at the time of ordering. These products are made in the United States and typically take 2-4 weeks to manufacturer. Every product has a shipping time below the "Add to Cart" Button.

Custom - Made to Order Products
Generally have a lead-time of 2-6 weeks depending on the level of customization
Custom Orders that have an accompanying Computer Aided Drawing (CAD) do not begin production until the CAD is approved by the customer
Custom Wood & Resin orders typically have a 2 week lead-time.
Order Status
Order in Manufacturing Process: If your order is custom or manufactured at the time of ordering, we often send you an email to inform you of the expected completion date. The manufacturing process begins within 24 hours of your order being placed.
Awaiting Fulfillment: Typically this indicates that it is in the handling process. "In-Stock" products typically ship same or next day and may skip "Awaiting for Shipment" and move to "Shipped"
Awaiting Shipment: Final stage of production or fulfillment
Shipped: You will receive an automated email with a tracking number. Sometimes tracking numbers are a business day behind actual shipping date.
How do I cancel my order?
We know there are times when you may realize that you ordered the wrong size or simply changed your mind regarding the color. Generally cancelling an order is easy as long as it has not been shipped or the metal has been cut (custom). Custom and made to order items must cancelled within 24 hours of the order being placed. Please contact us at sales@ventcoversunlimited.com and reference your order number if you need to cancel.
What is your Return - Exchange Policy?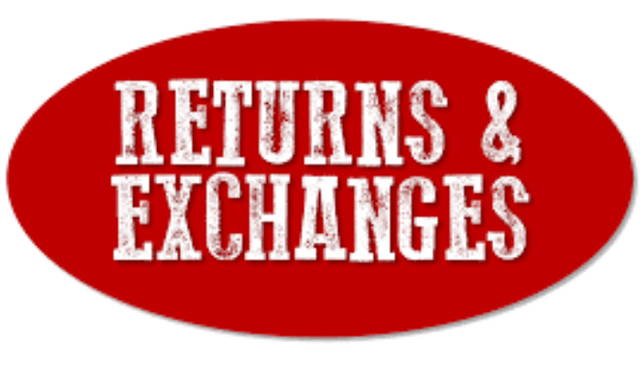 Items maybe returned for refund or replacement, provided you contact us within 45 Days of Shipment and items are in sellable condition.
Custom & Made to Order Products are NOT returnable - We make these specifically for you per your requirements.
Shipping charges for returns / exchanges are the responsibility of the customer.
Returns are subject to a 15% restocking fee. Exchanges are not subject to a restocking fee.
A Return Authorization Number must be attained before a return will be accepted.
Vent Covers Unlimited cannot accept a return for or refund the following:
Items that have been altered or mishandled
Items that are custom / made-to-order or painted after time of sale
Special-order items not listed on our site (unless approved by customer service)
Items that have been installed or show signs of installation (markings, scratches, etc.). If an installed item is defective, please contact Customer Service for assistance returning.
How do I measure to make sure I get the correct size?
You will need the duct size or the size of the air filter.

Start by removing your current vent cover. For floor vent covers, this is as simple as lifting the vent cover out of the duct. Wall and Ceiling Vent Covers need to be unscrewed to get this measurement.

Order the vent cover by the size of the duct.
How do I know what type of vent cover I need?
There are several important considerations when selecting the correct vent cover. What is the function needed? Does it need to be able to close? Where is it located? Will it be walked on or need to support weight? Here are some of our most popular styles.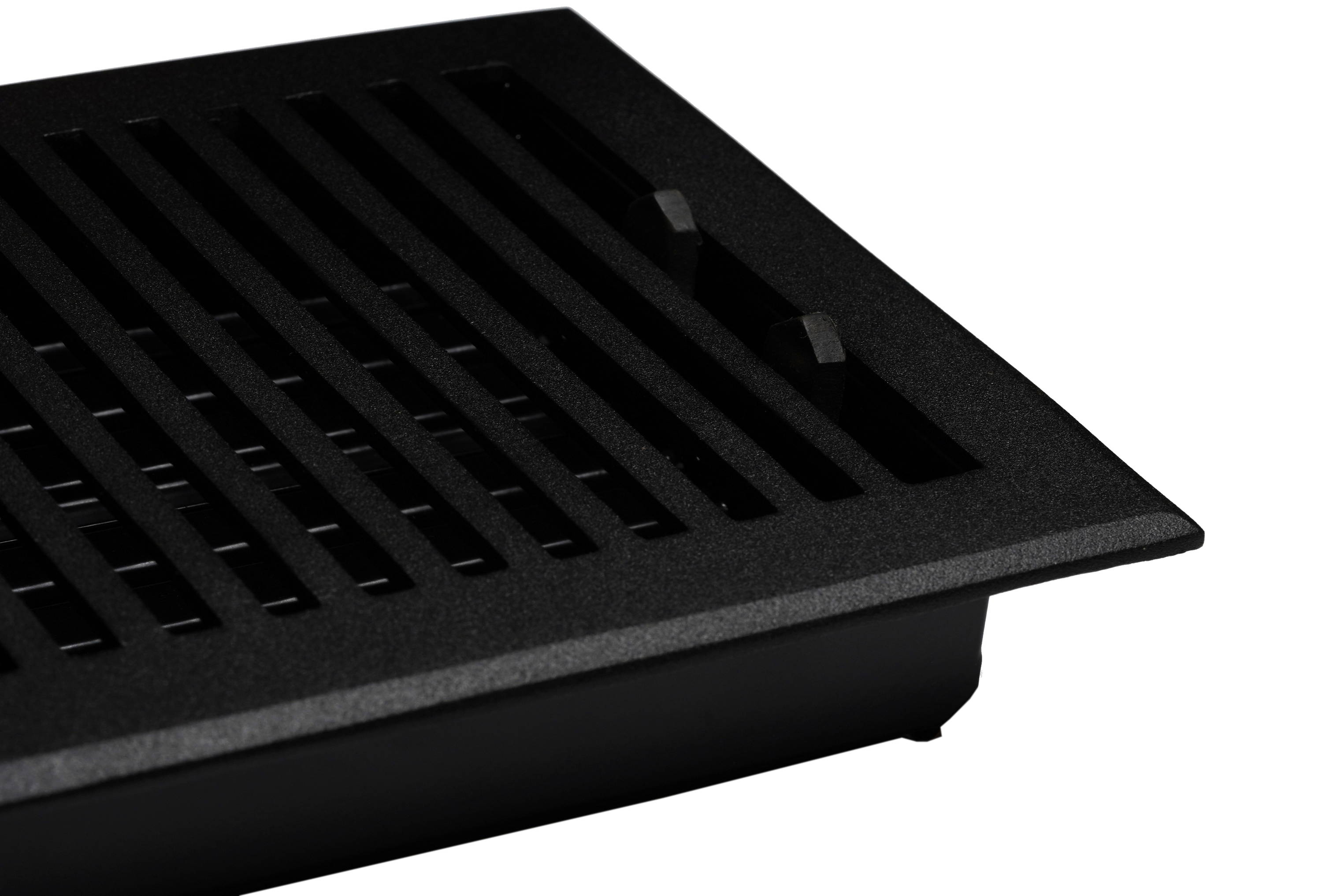 Surface Mount (Drop-In Style)
Most common type of floor, wall, and ceiling registers and returns.
Available in wood, metal, and resin.
Often include a damper to control the airflow on/off.

To install, simply drop into your vent cover. (Utilize the included screws or wall clips for ceiling or wall installation)
Once installed, you can use foam strips or weather stripping to decrease the movement of your new vent cover fit if desired.
---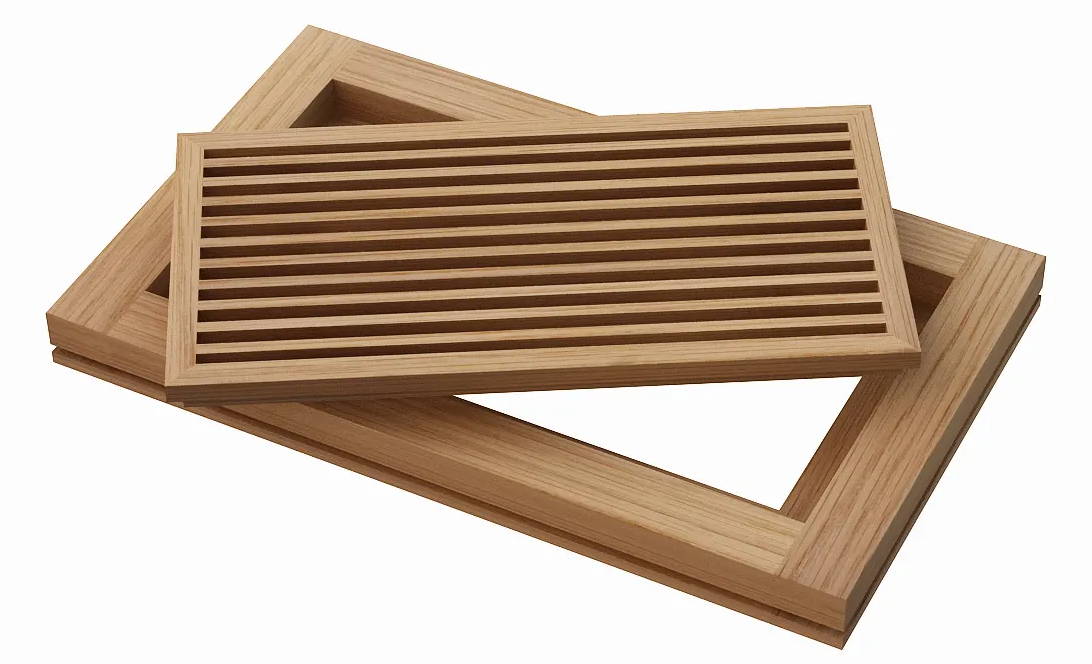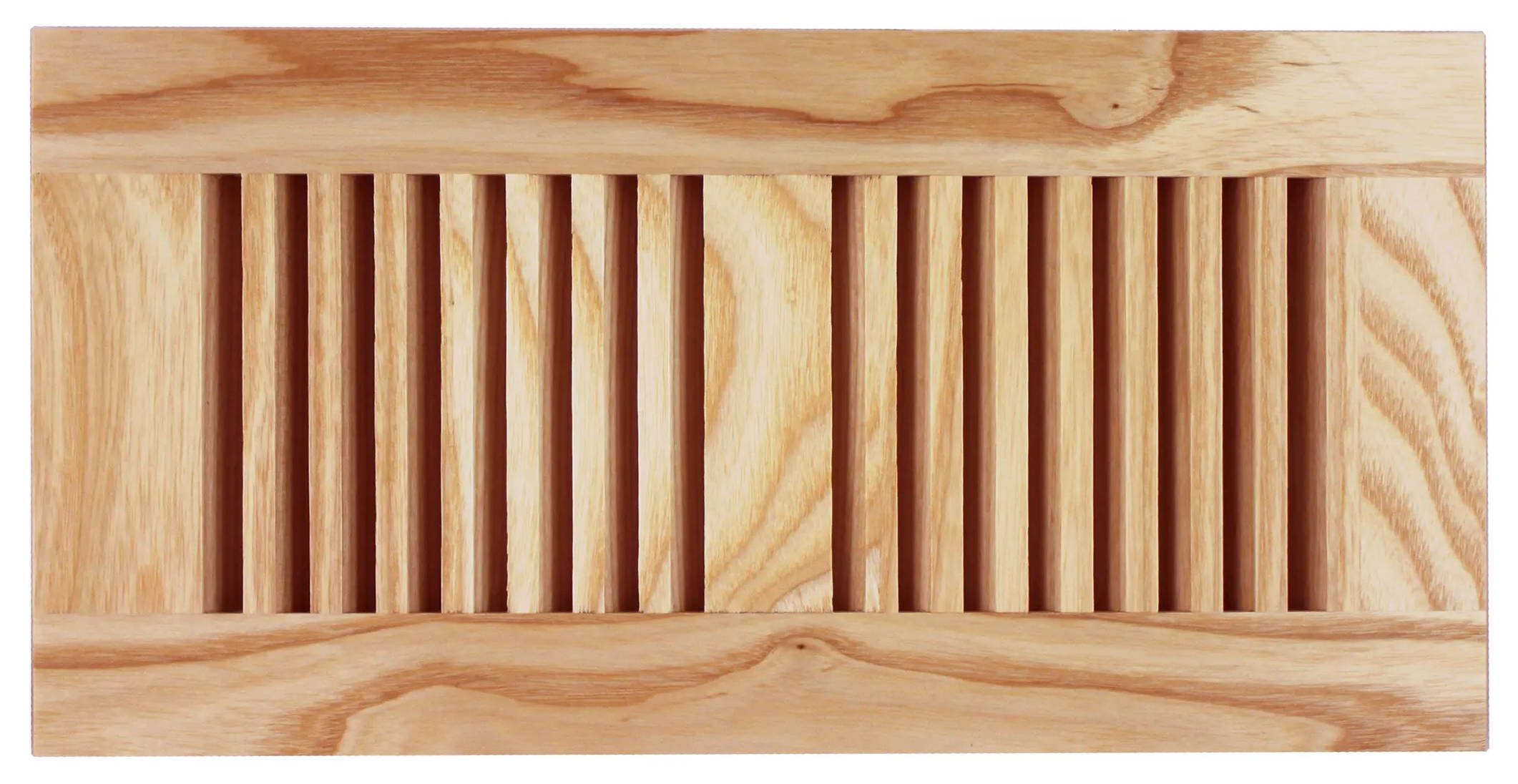 Flush With Frame & Flush No Frame
Flush Mount options look incredible on wood floors. They are typically wood and installed at the time of new flooring being installed or will require cutting of the current floor. We recommend professional for installation.
Measuring for Flush Mount with frame requires you to measure the duct size and order per that measurement. You can confirm the overall size of the vent cover with frame by navigating to the product page.
Measuring for Flush Mount without frame requires you to measure the duct size and the overall size of the floor opening. Order based on duct size but confirm the overall size listed on product page.
---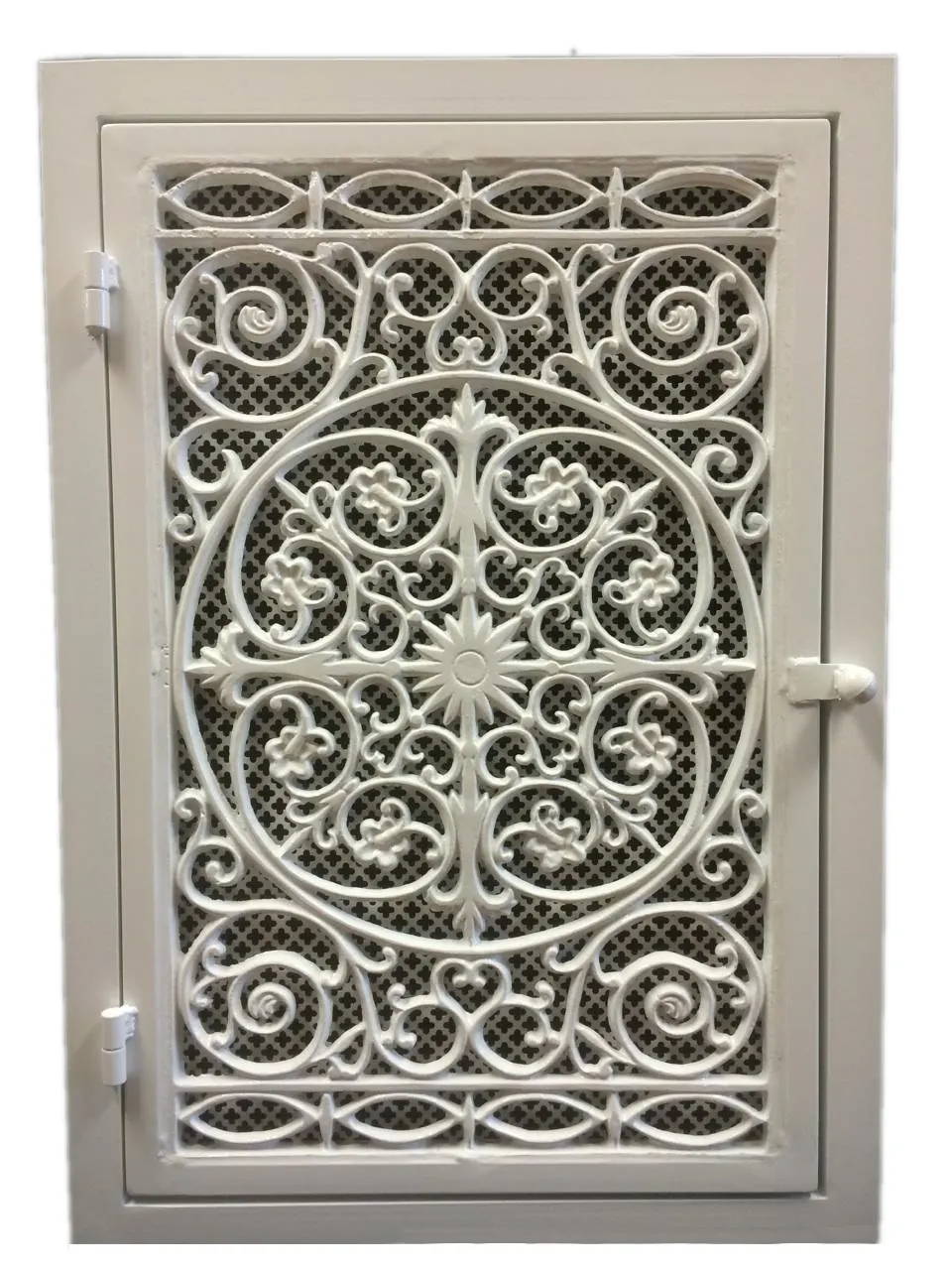 Hinged Air Returns & Air Returns
Both are available in wood, resin, and metal are often installed in wall or ceilings.
Hinged Air Returns allow easy access to change air filters and utilize latches or magnets to secure door.
Air Return Grilles are fixed and do not allow easy access to a filter.
Air Return Grilles are ordered by the duct size.
Hinged Returns are ordered by the size of the filter. (i.e. 20" x 20" filter = Order 20" x 20").
---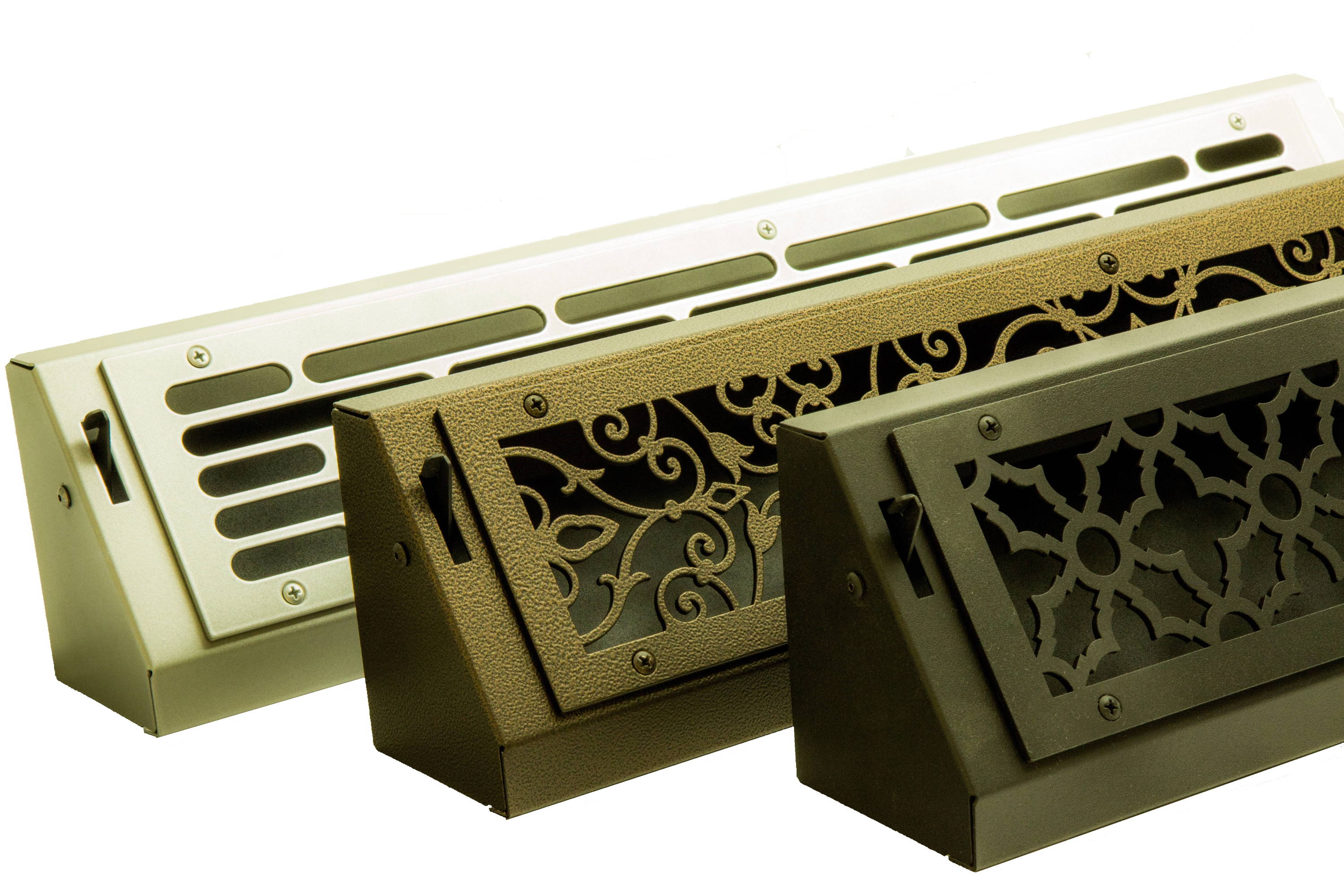 Baseboard Registers, Returns, and Covers
Available in both steel, aluminum, and wood
Typical measurements include a height of about 5" and depth it projects from the wall of about 3". This is dependent upon which style.
Standard lengths are 15", 18", and 24" and baseboard covers range from 4' - 6'. Custom sizes are available
What is the difference between a register (supply) and Return?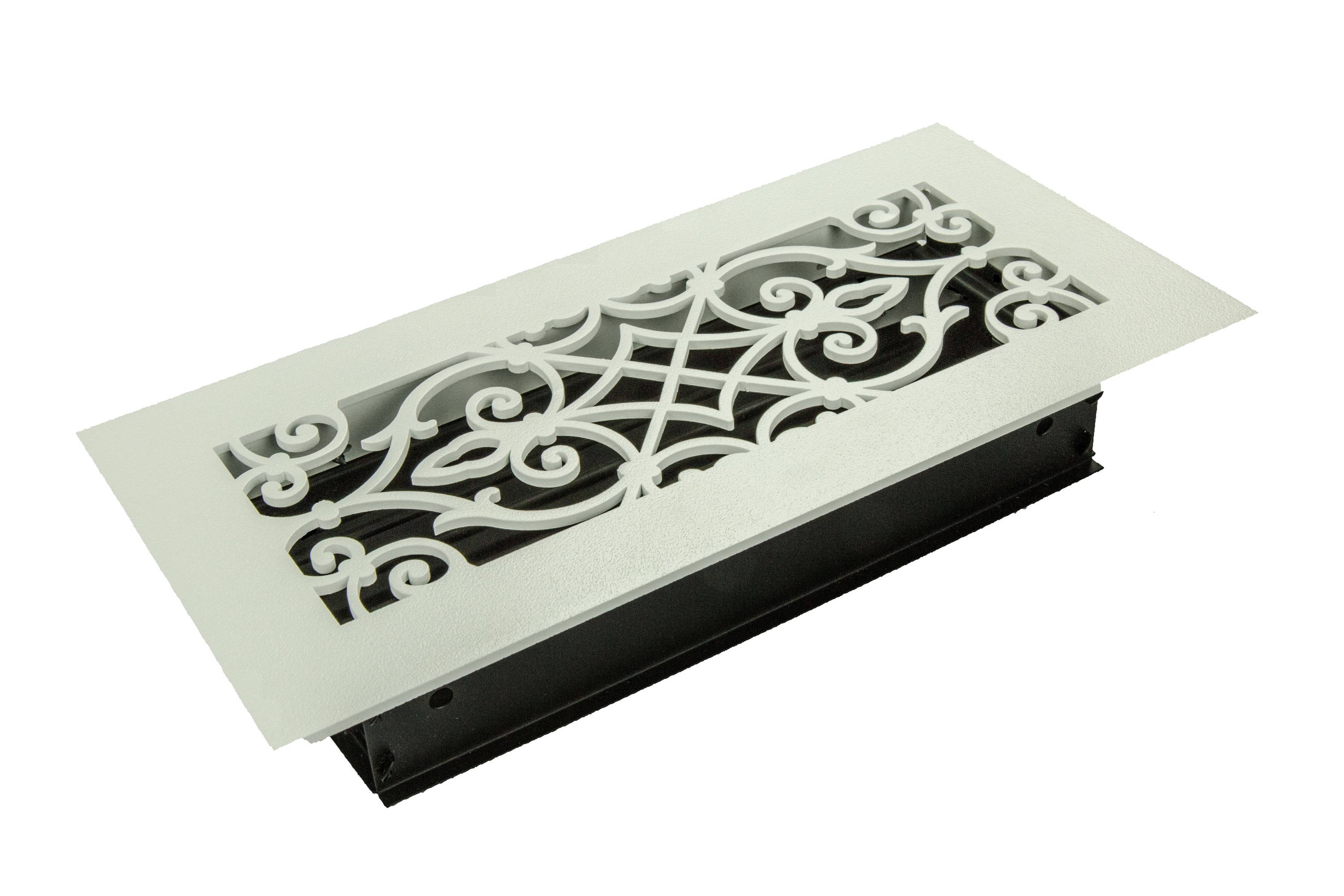 Registers (also referred to as a supply) are found around the home on floors, walls, and ceilings. They guide the hot or cold air flowing into your rooms. They include a damper that allows the air flow to be cycled on or off. Some dampers are preinstalled on the grille while some are mounted independently into the duct.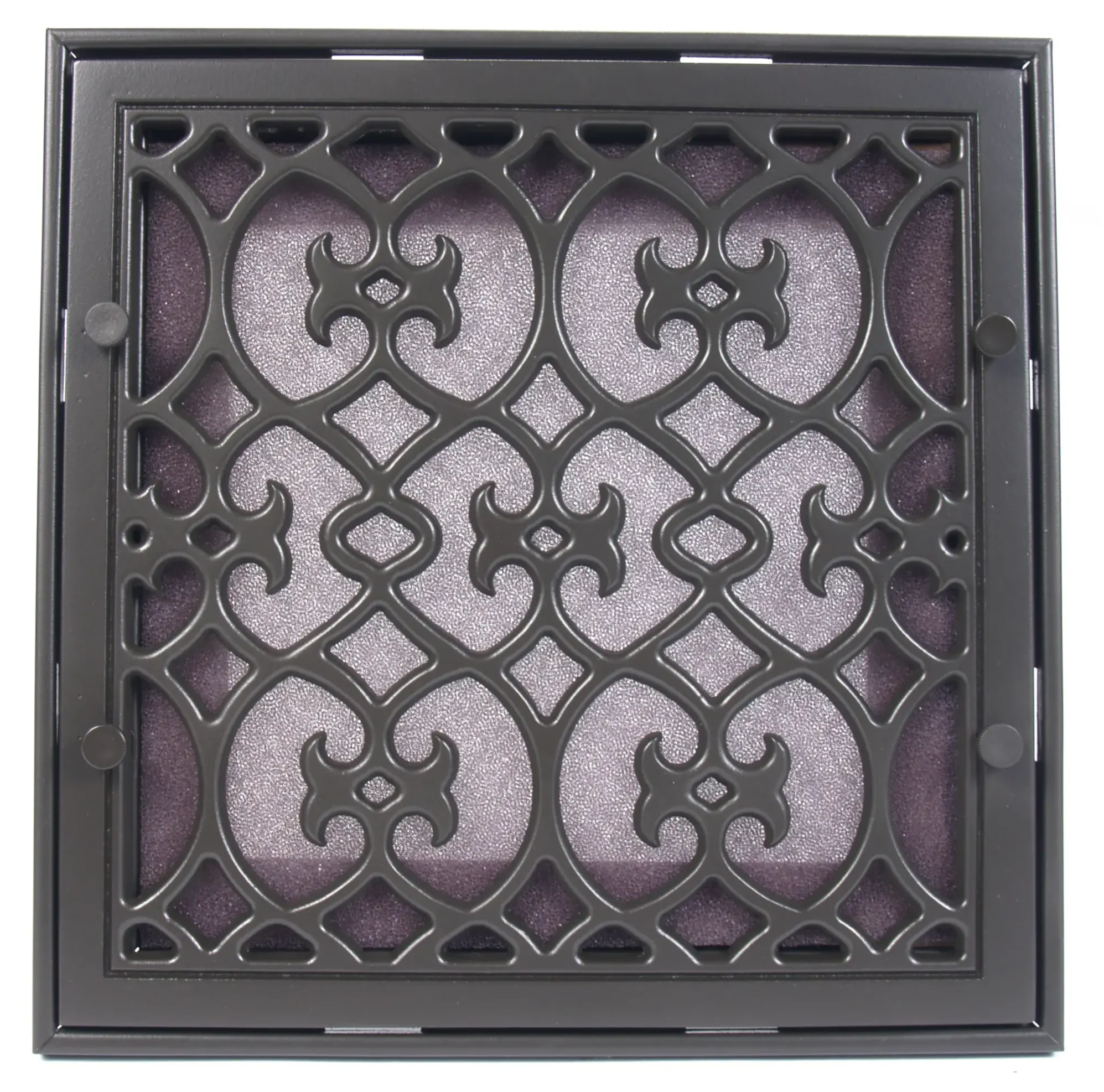 Air returns and hinged air returns circulate the air from your rooms back to you air handler where it is filter and redistributed throughout your house. Filters are typically found in one of two placed. They can be installed at the air handler or at the air return using a hinged door, magnetic door, or a door with thumb screws. The hinged air returns provide easy access to your filter making it easy to change.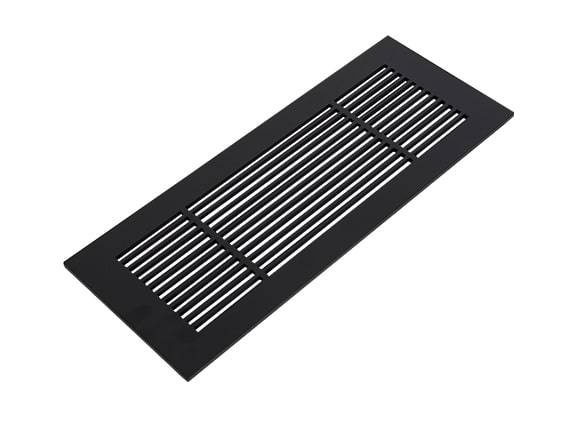 Air returns or return grilles also circulate the air from your rooms back to your air handler where it is filtered and redistributed throughout your house.
How do I Install mounting clips?
Mounting Clips are typically used to mount the vent covers on the wall. They can also be used on the floor for an extra snug fit. Mounting clips are included with all of our Madelyn Carter™ vent covers.
They are installed by removing the damper screw, adding the mounting clip, and replacing the screw. Please see the video below for more information.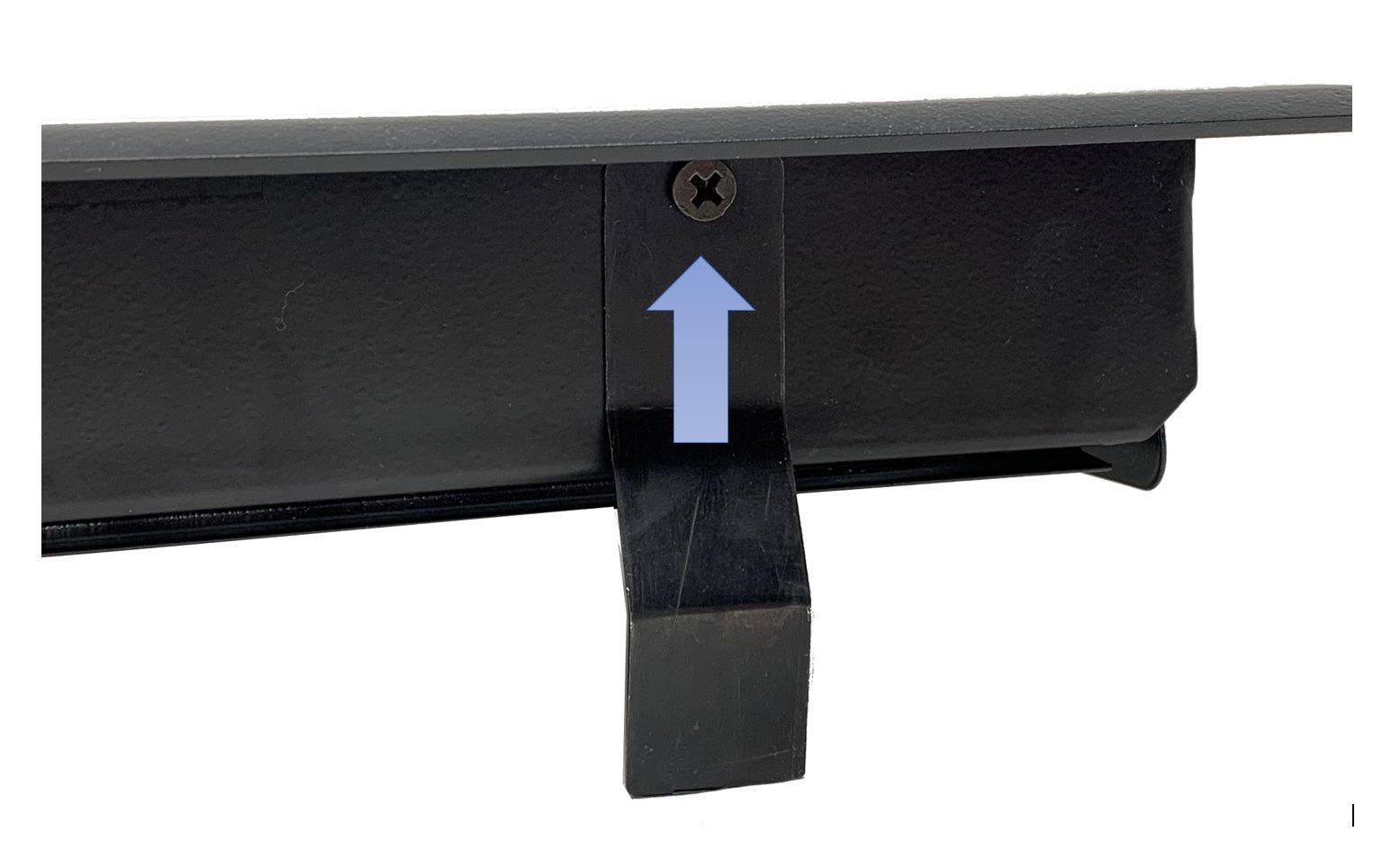 How can I avoid seeing the duct work once my new vent cover is installed?
There are a few different options. Our Steel Designs vent covers offer an optional concealment louver which is designed to hide unsightly duct work. The vent covers with a damper (registers) make it difficult to see the duct work. Many of our contractors and professionals use flat black spray paint to wide the duct work.