Rejuvenate the Old Baseboard Heaters
Time to Update the Baseboard Heaters? Best DIY Solution
Easy Slip-On Installation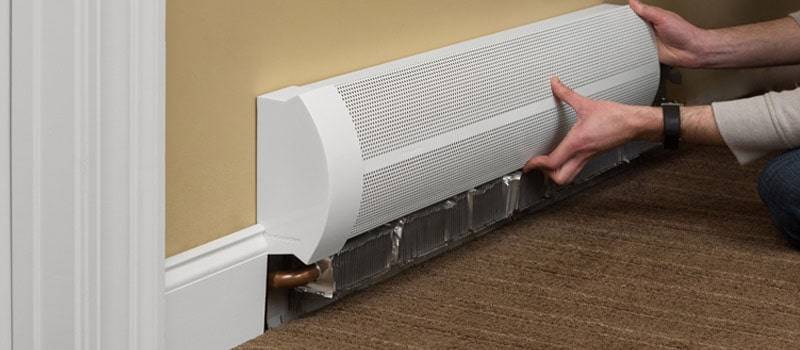 Installation is a snap. The Do-It-Yourself installation process will NOT require the use of any tools or hired help and only takes a few minutes.
Made of high quality, rust resistant steel & guaranteed by the manufacturer's warranty.
Designed With Safety In Mind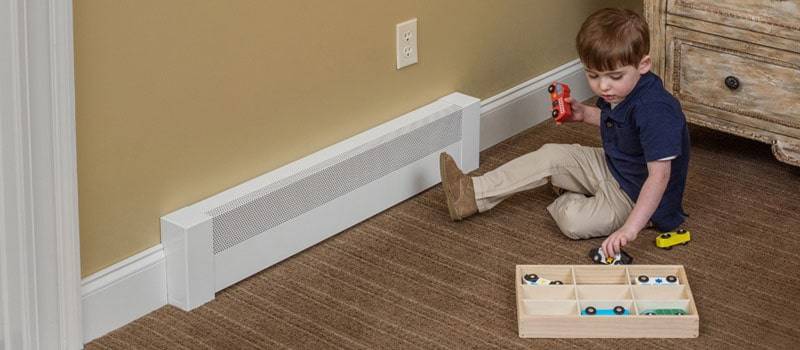 Single piece panel construction ensures proper airflow around the heating element while prohibiting direct access to it, making it safer for children and pets.
---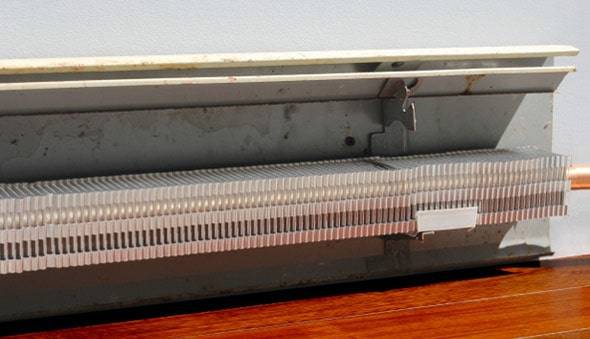 Remove one endcap and the front panel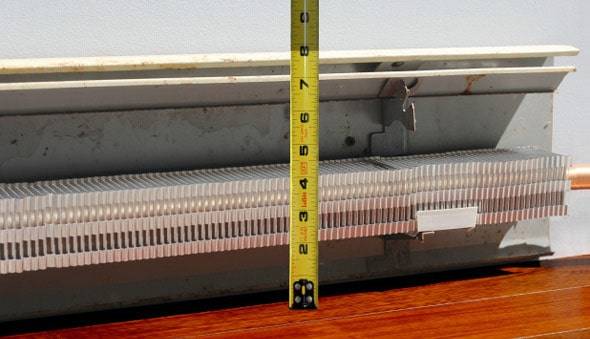 Measure between the floor and the top of the heater
Objective: 7.5" or greater
If less than 7.5" use the Wall Brackets (VCU-WB001) for mounting. This will bring the height up by a minimum of 1.25". Note: Units with a height of 9"+ will need to use the Premium TALL (VCU-BB003) profile.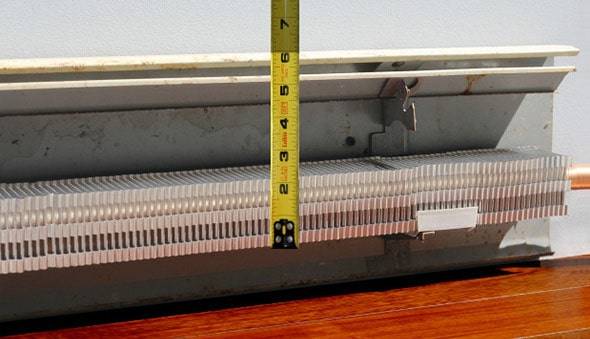 Measure from the bottom of the heating element to the top of the heater
Objective: Between 5″ and 6.75″
If less than 5″ use the Wall Brackets (VCU-WB001) for mounting. If the distance is 6.75″ or greater, the Premium TALL (VCU-BB003) profile should be used.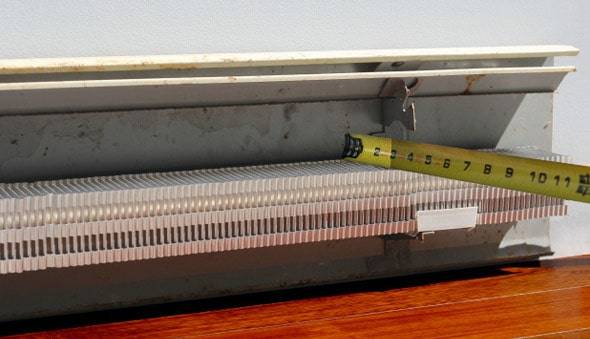 Measure from the outside face of the finned tube heating element to the back plate
Objective: Less than 3.125″
If larger 4″ x 4″ or 4″ x 6″ commercial style element is in place, a wood molding (shown here) will solve the depth issue.
For more complete instructions, click here.
---
Measure for Lengths & Layout
There is no need for fractional or precise right-on-the-dot measurements. The Baseboard Heater Covers are designed to yield an incredible amount of flexibility. Each endcap can offer up to 1.75" for a total of 3.5" when using a standard endcap at both ends of the panel.
Tip: Always round down the actual measurement to a whole number (example: 72.75″ measured, order a standard 6′ (72") panel).
Baseboard heaters longer than 7′ will require the use of multiple panels and couplers to register the ends together. Example: 8′ = Two 4′ panels and a coupler to connect them. Use this handy guide to determine the correct configuration for any length beyond 7'.
Standard straight lengths are measured from end to end using the original back plate. If a straight section is missing the back plate, measure from one extreme end of desired coverage to the other extreme end of coverage. Then subtract 1″. This is the ideal panel length.
Do you have special configurations? Corners, bay window, long panels, continuous piping, etc. Click here to learn about accessories for ALL configurations.
---
Baseboard Heater Cover Design Options